Q Drops site
Notifications
There are two ways to receive notifications for new Q drops.
One uses a desktop browser, the other is easily accessible via our Discord Server.


Desktop notifications
If you leave a desktop browser open to this site, your browser will automatically check for new Q drops every minute.
If a new Q drop arrives, your browser will display a popup like below: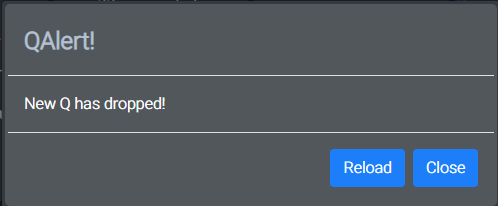 This only works with desktop browsers, mobile devices do not support this form of notification.
This popup should also generate a sound (the "red alert" sound from Stark Trek TOS).
If it does not, you will need to give this site permissions to play sounds.
To do this, click the lock icon next to the URL for this site (it may be green in some browsers):




A menu will pop open. In this menu, look for "Sound" as shown here: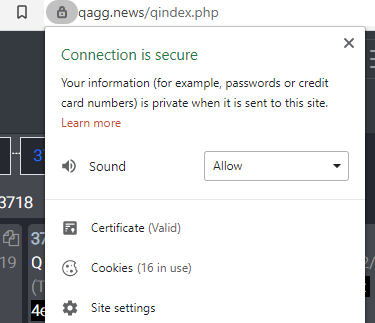 If a "Sound" option is not listed on this page, click on "Site Settings" and find it there.
Set this option to "Allow".
This sound and its volume can be changed in "Site Options" found in the menu (menu icon:

).


Mobile and Desktop notifications
The other method of notification is primarily for mobile devices, however desktops can take advantage as well.
The "bot" that crawls 8kun looking for Q drops sends out notifications to a communications platform known as "Discord".
To join the Discord server where you can see these notifications, click the Discord Server link in the menu (menu icon:

).
If you do not have a Discord Account, you will be asked to sign up.
Once you have joined this server, click on the "q-drops-bot" channel, and go into notifications for this channel and select "All messages".
Once done, any time this system finds a new Q Drop, your mobile device (or desktop) will be notified by the Discord server.
Also available on this Discord server - Screen captures of Twitter links that Q drops, and Trump's tweets.